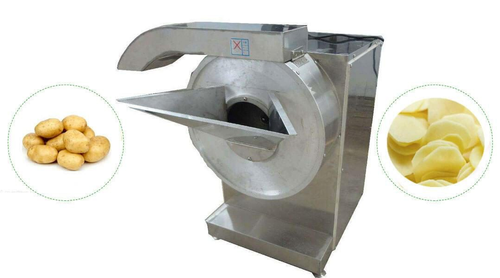 The potato slicer-making machine makes the job of businesses easy for those who need to slice the potatoes. They are a time-saving choice for food outlets.
Are you doing a business where you need to slice up a big quantity of potatoes? Yes, you are surely looking for a machine that can make your job easy and comfortable. Well, the manufacturers understand your needs and give you the best quality slice-making machine. Make the job of potato slicing easy and comfortable.
A potato slicer making machine is specifically designed for slicing potatoes efficiently and quickly. It automates the procedure of slicing potatoes into uniform sizes and shapes, saving time and effort compared to manual slicing.
The precise design as well as the functionality of potato slicer-making machines can differ according to the model and manufacturer. Meanwhile, here are some common specifications and components you might discover in such a machine:
Works according to the feeding mechanism
In the feeding tool, you can easily place the potatoes to be sliced. It can be a hopper or a conveyor belt system that shifts the potatoes towards the mechanism for slicing. The main part of the machine is responsible for slicing the potatoes. The machine has sharp blades or cutting discs that cut the potatoes into the required shapes, which include fries, chips, or rounds.
Adjustable Thickness
The best thing about the potato slicer machines is that they let you adjust the thickness of the slices as per your preference. It is sometimes done through a control panel or dial.
Managed by motor and power source
The machine is managed by an electric motor that handles the slicing mechanism. The power source can differ according to the machine, which includes compressed air and even electricity.
Safety Features
Potato slicer machines sometimes come with safety features to avoid accidents. It might add emergency stop buttons, blade guards, or even sensors that detect foreign objects to avoid injury to the machine or injury to the worker.
Potato slicer machines are commonly made of stainless steel or other food-grade stuff. It ensures high durability, easy cleaning, and the best hygiene standards.
If you go and check the physical or online market, you will find that there are different types and sizes of potato slicer machines available. They range from small countertop machines appropriate for use at home to large-scale industrial models used in business food processing.
When considering buying a potato slicer machine, factors such as manufacturing capacity, maintenance needs, ease of use and safety must be taken into consideration. It's always advisable to research and compare various models from reputable manufacturers to discover the machine that best suits your precise needs.
If you are having a food outlet or even need to make a potato slice at home, you can buy a potato slice machine. These machines are easily available in different shapes and sizes. All you need to do is place your order online.